The Endgame is coming! The massively successful superhero movie franchise is closing out with its biggest film yet, pitting the remaining Avengers against the all-powerful Thanos. But how powerful is Thanos compared to our heroes? Thanks to Kaggle, we have the opportunity to dive into Marvel superhero demographics information and quantitatively measure skills and strengths of all the characters. In this blog, we'll compare superheroes characters, including gender, alignment and power statistics.
What's in the dataset?
As with any good analysis, we need to look at the dataset first and explore the information within it. For this data dive, we looked at the Marvel characters' physical characteristics, as well as their power and skill ratings. After we explore generally how the Avengers + Thanos rank against each other, we'll look at gender differences between the characters, and try to figure out the best way for our heroes to defeat Thanos.
Avengers' physical characteristics

| | | |
| --- | --- | --- |
| Column Name | Description | Data Type |
| ID | The ID of the superhero | Numeric |
| Name | Superhero's name | String |
| Alignment | Superhero's alignment | String |
| Gender | Superhero's gender | String |
| EyeColor | Superhero's eye color | String |
| Race | Superhero's race | String |
| HairColor | Superhero's hair color | String |
| Publisher | Publisher | String |
| SkinColor | Superhero's skin color | String |
| Height | Superhero's height | Numeric |
| Weight | Superhero's weight | Numeric |

Avengers' strengths
| | | |
| --- | --- | --- |
| Column Name | Description | Data Type |
| Name | Superhero's name | String |
| Alignment | Superhero's alignment | String |
| Intelligence | Intelligence score | Numeric |
| Strength | Strength score | Numeric |
| Speed | Speed score | Numeric |
| Durability | Durability score | Numeric |
| Power | Power score | Numeric |
| Combat | Combat score | Numeric |
| Total | Sum of Intelligence, Strength, Speed, Durability, Power, Combat | Numeric |

What questions do we want to explore today?
Who is the strongest superhero literally? What's the ability component?
What's the gender difference among the Avengers' strengths?
What are Thanos' strengths and weaknesses?
How might the Avengers defeat Thanos?
Avengers Ability Statistics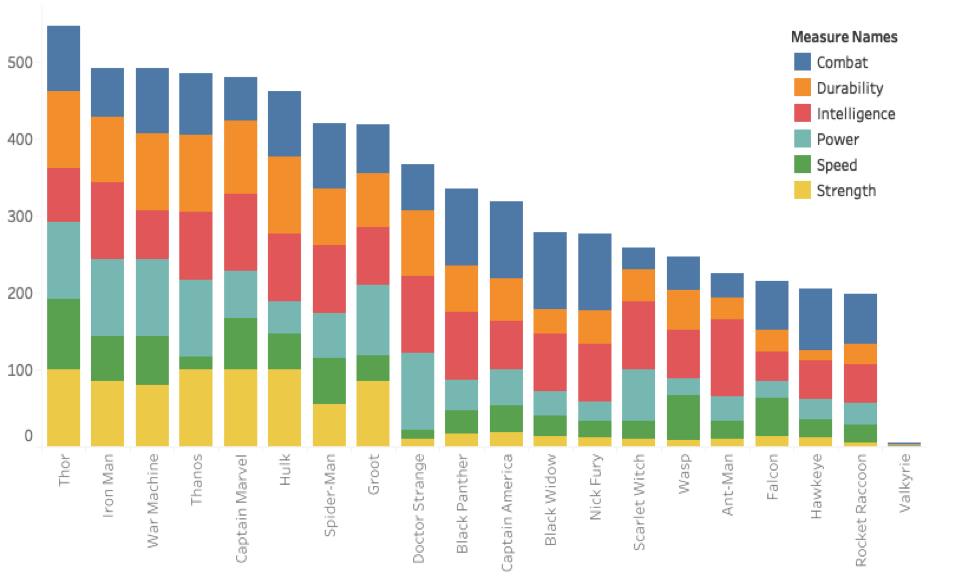 This dataset's superhero abilities consist of 6 aspects: combat, durability, intelligence, power, speed, and strength.
It looks like Thor, Iron Man, and War Machine cumulatively have the highest scores across their abilities. Interestingly, Iron Man has the highest intelligence score and a high durability score despite being a mortal human. Thanos comes in right behind them, with high scores in every category except for speed. While Captain Marvel scored the highest out of the female characters, the rest of them (Black Widow, Scarlet Witch, and Wasp) come in much lower in comparison. Interestingly, Groot scored quite high on the scales with a high level of strength and power, despite having limited communication skills - could he be their secret weapon?
Gender Differences

Let's take a closer look at how our male and female superheroes compare - keep in mind that women make up only 25% of the Avengers team, and appear much less often in the overarching franchise. While that's been trending upward with the release of Captain Marvel, it's still imbalanced. The gender gaps in skills and strengths reflect that - the average difference between most of the skills is 15 - 20 points, with the smallest gap appearing for Speed and the largest difference appearing in Combat. One thing to note is that there are some key female characters missing from this analysis who are not superheroes, but still provided a massive strength in previous movies - Okoye, the most fearsome warrior in Wakanda, and Shuri, Wakanda's brilliant scientist, were both instrumental in Black Panther and Avengers: Infinity War. How might they fit into these ratings? Are there other key female characters who will be instrumental in the final showdown?


Thanos' biggest weakness?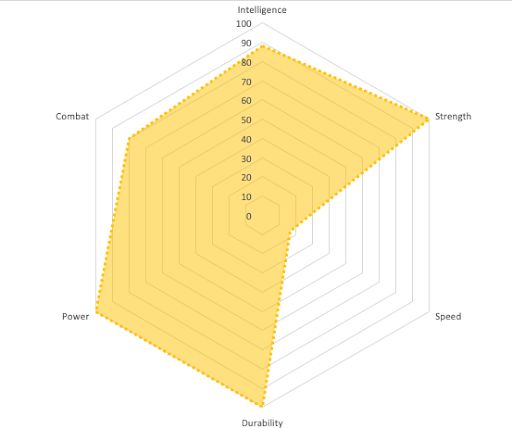 This radar chart maps out Thanos' strengths and weaknesses - and it looks like he's almost invincible across all the metrics that have been quantified. The only obvious weakness here is his speed. But does that matter if he has all the Infinity stones and can slice through time and space? Maybe a bigger weakness that isn't quantified here is his lonely stature - he is an army of one, while the Avengers can combine their ideas and strengths together.


Alignment comparison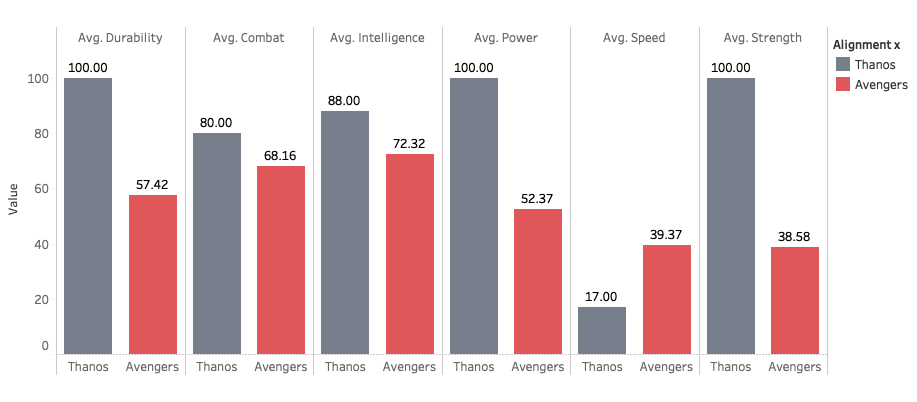 The Avengers certainly have their work cut out for them. Across almost every metric, Thanos ranks higher than the average Avenger. In fact, from this graph, it may look like the only advantage that the team has is in their speed. However, this is only the average Avenger, not the combined strengths of the whole gang. And therein might lie the key to defeating Thanos. As has been a theme in many of the past movies, the only way to defeat an enemy is to work together and leverage each member's power against him.
While we don't yet know how the movie will turn out, these numbers give us some insights into strategies and ways for the Avengers to defeat Thanos. Curious about how other heroes stack up? Take some time to dig into the dataset yourself - not only does it contain all the Marvel characters, but it also contains characters from many other franchises and graphic novels. How do the Avengers measure up against DC Comics characters? Is there a similar gender imbalance across other graphic novels?
Don't forget the best practices that we've demonstrated over the course of this investigation, including asking the right questions and looking at an overview of the data instead of diving in. Make sure that you take the time to validate your findings or research it further to ensure that you're coming to the right conclusions.
Curious how we can help you ask the right questions of your data? Contact us today to schedule a time to speak with us.