Victoria's Secret is one of the best-known brands for lingerie, pajamas, and bathing suits. Thanks to Kaggle, we have the opportunity to dive into their best-selling products and see how their pricing reflects their inventory. In this first part of our series, we'll explore their inventory and unique products to get a better understanding of the overall dataset. This is always a best practice when you work with your own data - when you invest the time up front to get an overview of your dataset, you'll better hone your analysis and save a lot of time in the long run.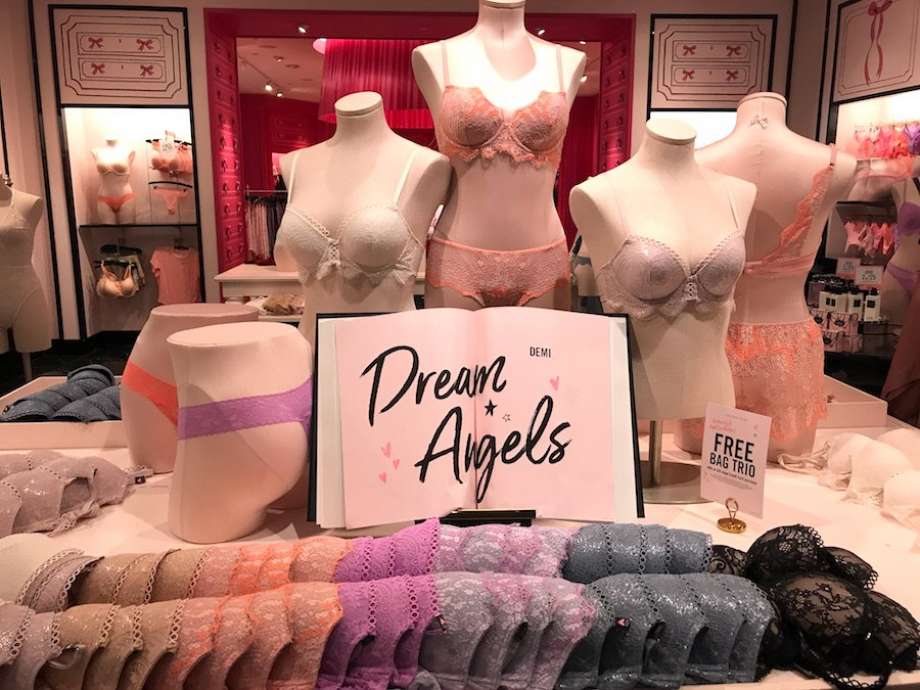 About This Dataset
We use the dataset from Kaggle to explore the secret in Victoria's Secret bra products from June 2017 to July 2017. The data was gathered using PromptCloud to scrape the information from Victoria's Secret retail site.
What does the dataset contain?
| | | |
| --- | --- | --- |
| Column name | Description | Data type |
| product_name | Name of the product | String* |
| mrp | Maximum retail price | String |
| price | Retail price | String |
| pdp_url | Product display URL | String |
| brand_name | Brand name | String |
| product_category | Product category | String |
| retailer | Retailer | String |
| description | Product description | String |
| rating | Product rating | Numeric |
| review_count | Number of reviews | Numeric |
| style_attributes | Attributes of the product | String |
| total_sizes | Total set of sizes | String |
| available_size | Sizes available | String |
| color | Product color | String |
*A string is the terminology for data types that are read as characters (i.e. words), even if they look like numeric values
What questions do we want to explore today?
Before we dive into the data too much, let's get an overview of Victoria Secret's inventory by looking at their products and the variations they have on each product. Here are the questions we'll answer in this article:
How many unique products are there?

How many colors does each product have?

How many products are in each category?
Answers
How many unique products are there?
After the initial data cleaning (only keeping Victoria's Secret bra products), we have 282,571 records total in Victoria's Secret dataset. However, when we take a closer look, there are 730 unique product URLs and 168 unique bra names.

That means that the large amount of product records is due to the fact that the brand offers a tremendous combination of different colors and sizes ("XS" - "XL", 30AA - 40DDD, etc).
Think about the items of clothing that you purchase - do you have multiple colors of the same shirt? Or different types of shirts in the same colors? Here, we are seeing a similar phenomenon.
How many colors does each product have?
On average, each product has 11 colors. It seems that Victoria's Secret wants to cater to as many different tastes as possible. For example, The Player Racerback sports bra has up to 52 various colors.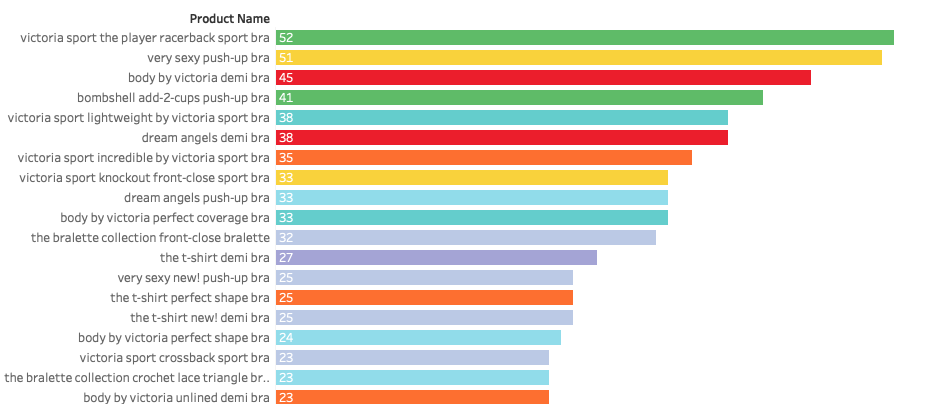 What types of colors do they have? Quite a creative amount, it would seem. If you were to ask "how many products do they have in black?", that is actually a more complicated question because there are varieties of the same color that incorporate the fabric. In fact, there are 80 varieties of black in the dataset. They are 'black', 'black crochet lace', 'black cross-dye', 'black pearl lace back', 'black lace', 'black w/ black lace', 'silver sea with black pearl cross-dye', 'black lace mix', 'black mesh', 'black pearl', 'black pearl mesh', 'black with lace trim', 'black crochet back', 'black wildflower lace', 'black with metropolis', etc.
This is a feature we don't see all the time, but is probably not unique in the clothing industry - this is a time when industry knowledge plays a big role in deciphering the data.
What is the amount of products for each category?
We simplified the 114 very specific categories into 12 condensed general categories, but not all of them are created equal. Just five categories account for 90% of all products: push-up bra, sports bra, demi bra, bralette, and perfect coverage bra. Push-Up Bras account for almost one-third of total items sold.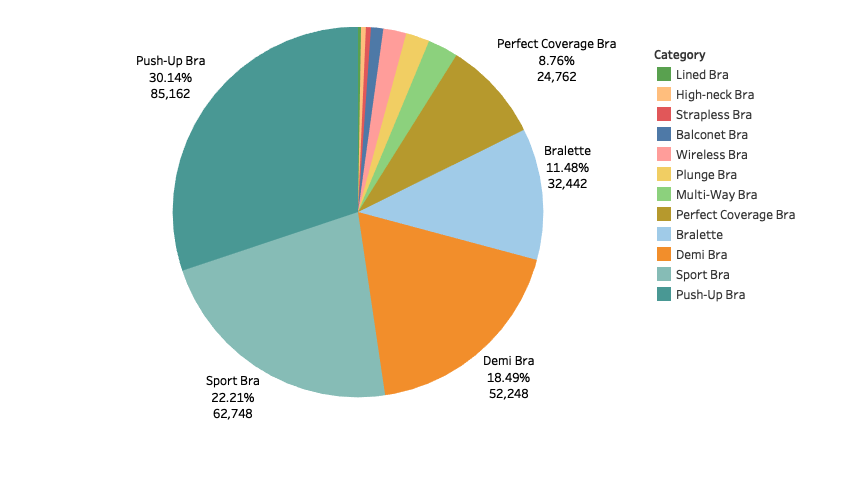 In this initial foray, we took the time to condense and visualize the data to better understand Victoria's Secret's inventory. Based on what we investigated, we can already base some conclusions on how they sell their products and who they are selling to. For example, their wide variety of colors, sizes, and bra types signal that they are trying to accommodate every woman in the market, instead of focusing on a particular segment. However, is this the right sales strategy moving forward? Is it worth the cost to manufacture that many sizes / fabrics? Maybe they can improve their bottom line by removing some of the rarest sizes to cut manufacturing costs.
In Part 2 of this data exploration, we'll dive into how Victoria Secret prices its products and how color and size impact what consumers pay.